From brightly colored paintings of famed jazz singer Ella Fitzgerald gracing the lobby of The Ella to magnificent murals made of hand-carved ceramic tiles at The Trio, the historic moments that defined Central Avenue in its heyday are being depicted throughout ENCORE!® thanks to the developer team's commitment to public art.
On this page, you'll begin to explore this neighborhood's rich history and musical heritage through visual representations in various art forms, illustrating what made Central Avenue an unforgettable place fueled by the revival of commerce, community and culture.
As ENCORE! continues to rise, you'll begin to see many more vibrant works of public art emerge that will delight, surprise, entertain and even inspire you to embrace these important cultural assets of this downtown neighborhood.
---
The Gift of Gathering Remembrances
Natalie Blake, artist
Location: 1101 Ray Charles Boulevard, The Trio at ENCORE! (west facing wall overlooking historic Central Avenue)
"The Gift of Gathering Remembrances" tells a story of the formation, change and growth of a historically rich Tampa neighborhood: Central Avenue. In each panel, the artist uses the sun as its origin, to identify each era that is depicted.
Public art at The Trio at ENCORE! was made possible through a public/private partnership of Banc of America Community Development Corporation, Tampa Housing Authority, The Trio at ENCORE! LP, and City of Tampa–Art Programs Division
Blare, Strum, Pop
Taryn Sabia, artist
Location: 1101 Ray Charles Boulevard, The Trio at ENCORE! (north facing wall overlooking Ray Charles Boulevard and future museum)
The structure conveys the rhythm for the music and its form. This jazz trio represents three distinct sounds blending into a single harmony as the three buildings of The Trio create a unified community.
This art piece, "Blare, Strum, POP", features a unified jazz trio, immersed in the energetic performance of their craft. Divided across the structure of the building, they rely on the flow of the music to unify the façade and connect the performance.
The warm and cool tones reflect the variation in song, coming together in composition of art, music and community.
The Ella at ENCORE! Lobby
Merryl Jaye, artist
Location: 1210 Ray Charles Boulevard, The Ella at ENCORE! lobby
From the Artist: Ella Filtzgerald was our finest singer of the twentieth century … A natural musician whose abilities inspired all the instrumental musicians around her recordings and performances. I picked this pose for her, as I felt it showed her emotional intensity and personally strong input to her music. She was the premier inspiration for many great singers to come.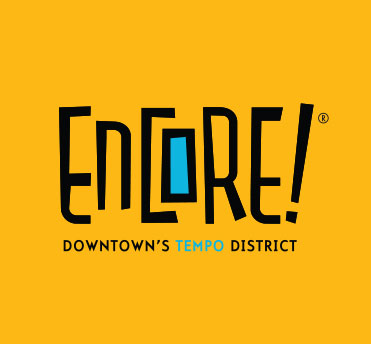 Art of the Written Word
James Tokley, author
Not all art at ENCORE! is of the visual variety. James Tokley, Official Poet Laureate of both Hillsborough County and the City of Tampa, has penned written tributes in honor of the inspiration and legacy behind ENCORE!—and for the four expertly designed residences in Downtown Tampa's Tempo District, which will vividly and soulfully carry that legacy into tomorrow.
---