The 1.6-2.4 acre hotel/condo sites are center stage to a medley of artistic and cultural on-site amenities and the Center City's business and entertainment destinations. ENCORE! has received approval for up to 200 hotel keys and up to 1,513 multifamily units. Convenient to I-275 and the Crosstown Expressway, the location supports easy access to Tampa Bay's most popular attractions:
Less than 5-minutes from
Central Business District
University of Tampa
Tampa Convention Center
The Children's Museum
Tampa's Riverwalk
Armature Works Public Market & Restaurants
Historic Ybor Entertainment District (and future home of the Tampa Bay Rays)
Amalie Arena
The Florida Aquarium
Port Tampa Bay Cruise Terminals
Less than 15 minutes from
Raymond James Stadium
Tampa international Airport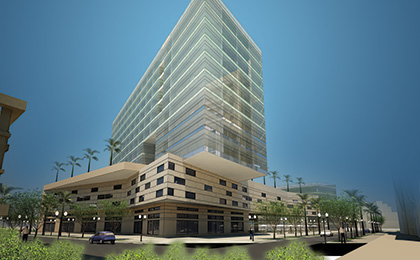 NOW SELLING
PARCEL 9 – 2.4 acres approved for hotel/condo, 300' maximum height
PARCEL 10 – 1.6 acres approved for hotel/condo, 280' maximum height
PARCEL 11 – 2.4 acres approved for hotel/condo, 260' maximum height
ENCORE! is very well-positioned for smart investments. With over 40 acres, this pedestrian-friendly community is nestled among a beautiful town square, public artwork and relaxation niches that have become center stage to affordable and market rate apartments, retailers and restaurants—and soon—hotels, offices, and a history museum.