ENCORE! is approved for 180,000 SF of office and parcels ranging in size from 1.6-2.4 acres. Centrally located to I-275 and the Crosstown Expressway, ENCORE! provides easy access to all of Tampa's business anchors.
In fact, strategically located in the heart of the Tampa's Center City, ENCORE! is 5-minutes away from the Central Business District's 60,000+ workers, 15,000+ residents, the University of Tampa, the University of South Florida Medical School, and a host of entertainment and cultural centers.
ENCORE! is a LEED® certified development.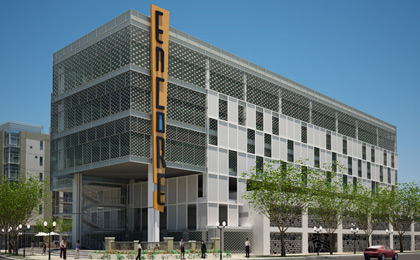 >
NOW SELLING
PARCEL 9 – 2.4 acres approved for office, 300' maximum height
PARCEL 10 – 1.6 acres approved for office, 280' maximum height
PARCEL 11 – 2.4 acres approved for office, 260' maximum height
ENCORE! is very well-positioned for smart investments. With over 40 acres, this pedestrian-friendly community is nestled among a beautiful town square, public artwork and relaxation niches that have become center stage to affordable and market rate apartments, retailers and restaurants—and soon—hotels, offices, and a history museum.