Retail and restaurants compose the rhythm and character of this area by wrapping the pedestrian-friendly central town square, including outside seating and an outdoor market plaza. ENCORE!® includes ground floor retail and restaurant opportunities that serve the central business district's 60,000+ daytime population, surrounding neighborhoods, 1500+ on-site apartment residents and 15,000+ in the surrounding 2-miles, as well as hotel guests, tourists and office professionals.
Recent data indicates tremendous growth in median household incomes within ENCORE!'s Downtown Tampa market ($58,501 up from $49,615 in 2010) with even higher median household incomes projected through 2021 ($77,120).*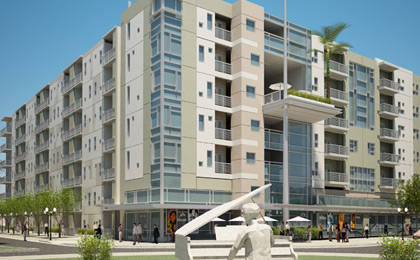 NOW SELLING + LEASING
Ground floor retail & restaurant space fronting Perry Harvey Park and ENCORE!'s town square featuring public art and a history museum
Street and garage parking
Wide paved sidewalks promote a walkable, pedestrian-friendly environment
LEED® certified development
ENCORE! is very well-positioned for smart investments. With over 40 acres, this pedestrian-friendly community is nestled among a beautiful town square, public artwork and relaxation niches that have become center stage to affordable and market rate apartments, retailers and restaurants—and soon—hotels, offices, and a history museum.
*Source: US Census Bureau; EASI®; Experian Information Solutions, Inc.; and Experian Marketing Solutions, Inc.